CMDS Welcomes New Researchers
We are happy to announce that two researchers have joined our team to work on various projects.
The two researchers, Mila Bajic and Umair  are conducting research work in line with the common methodology of the projects. They collect and tabulate data, carry out interviews, write analytical reports and feed into the projects' outputs.
Mila Bajic works at SHARE Foundation on the protection of digital human rights and online freedoms. Her work focuses on the intersection of analogue and digital spheres, popular culture, conspiracy theories and visual theory and practice. She is a CEU graduate where she obtained her MA in Nationalism Studies dealing with generational memories and attitudes. During her time at CEU she worked as a junior researcher at the Open Society Archives on the Yugoslav Archives Project where she conducted coding, processing and digitalizing of news articles and documents alongside television news materials. Along with her MA degree she received the Visual Studies Program certificate for a series of documentary shorts, photo essays and visual-theory works. She is an alumna of the Center for Women's Studies school at the Faculty of Political Science in Belgrade and a two-time participant in the Center for Comparative Conflict Studies summer school. She is a European Fund for the Balkans scholarship recipient and was a recipient of the Dositeja scholarship for young talent in Serbia for two consecutive years.
Mila is working on the Strengthening Quality News and Independent Journalism in the Western Balkans and the Media Influence Matrix projects.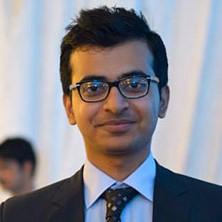 Umair Khalid holds an MA in Political Science from the Central European University. He is interested in issues regarding media regulation, censorship, and the role of civil society. Previously he has worked as a journalist, digital strategist, and communications consultant with various organizations.
Umair is working on the Media Influence Matrix project.