When Politicians Become the Guy Next Door
In the summer of 2010, the Russian president Vladimir Putin, then a prime minister, chose to appear on a Harley Davidson Lehman Trike to a gathering of motorbikers near Sevastopol, in Ukraine's Crimea region. Photographers were thronging to immortalize the moment. Two years later, Putin appeared dressed in an ice hockey costume at a friendly match Russia was playing against Finland somewhere in the Leningrad region. Again, the picture caused sensation.
Images of Putin showing his signature judo moves, swimming in freezing cold water, fishing, hunting or shooting have flooded the internet.
In contrast, the Canadian prime minister Justin Trudeau has made inroads in gaining public trust thanks to skillfully displaying signs of his overwhelming empathy. His support for refugees moved many. Touching stories featuring Trudeau greeting immigrants abound.
Last year, Trudeau marched in the Toronto's Gay Pride Parade wearing a rainbow-striped pair of socks with the words "Eid Mubarak", recognizing the Islamic festival that marks the end of Ramadan, printed on them. The festival coincided with the 2017 Parade. With one pair of socks, he basically showed respect to two communities. Trudeau's "socks diplomacy" was wildly covered by the media.
Trudeau and Putin are cut from a different cloth. While Trudeau has been building its "boy-next-door", "man of the people" image, Putin wants his fellow Russians to see the macho in him, the steadfast and brave leader. But what both Trudeau and Putin have in common is their sly use of personal image in pursuing political gains.
Social media help them. They encourage political leaders to inject personal details into their political work to win voters and improve communication. "Personalization of politics," as this new form of communication with audiences is known, is fundamentally changing how politics is done.
Politics and Lifestyle: the Perfect Match?
"Social fragmentation and the decline of group loyalties have given rise to an era of personalized politics in which individually expressive personal action frames displace collective action frames in many protest causes," wrote W. Lance Bennett, a political science professor at the University of Washington in 2012. He says that the group-based "identity politics" that emerged after the 1960s still exist, "but the recent period has seen more diverse mobilizations in which individuals are mobilized around personal lifestyle values" to engage with a spate of causes including economic justice, environmental protection and human rights.
The "personalization" concept entered the political field in 2010 when communication was undergoing significant shifts. It refers to the integration of politicians' personal stories and preferences in their online profiles to create a positive and media-friendly public image.
Personal accounts on social media are commonly used by political figures to raise their profile and to create a positive and "ordinary" personal image. They share personal information and photographs with their audience that make them seem more reachable by the broader public.
Politicians and their advisors assume that ordinary citizens feel more involved and can communicate with the political leaders through liking their posts, reposting and tagging. They seem to be right. Personalized politics already generates results. More than a third of young people aged 18 to 24 admit that news on social media about political figures may have an effect on their voting decisions and preferences, according to a study jointly carried out in the U.K. by King's College London and the survey company Ipsos Mori.
Winning Over the Hoi Polloi
Politicians spin their personal matters and share their personal stories mostly when it is relevant for their political career. The most popular politicians who have devoted special attention to personalizing their image include Barack Obama, David Cameron, Justin Trudeau, Emmanuel Macron and Donald Trump.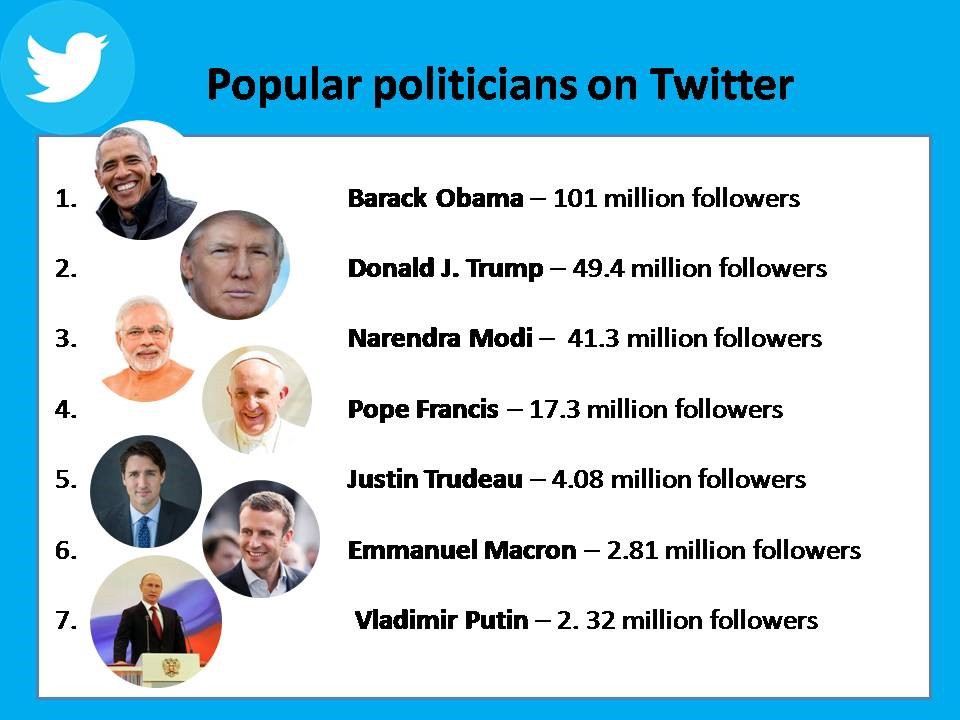 They have been particularly skillful in making their social media accounts a platform to spread their opinion and influence the masses. On Twitter, Barack Obama has over 100 million followers. He is followed at a distance by Donald Trump with about 49 million followers.
Most of these politicians tend not only to highlight their political activities online, but also to discuss non-political events and news including their reactions and comments on people and events in the entertainment industry. But all is carefully planned to bring political benefits.
Social media platforms such as Twitter, Facebook and Instagram enable the shifts in political communication. They bring politicians and citizens closer to each other like never before. Together, they have a massive influence on people's reactions. For example, the visual appearance of politicians affects people's decision-making, according to a 2014 study done by University of Vienna researchers.
However, the personalization of politics has its drawbacks as well. A side effect of this personalized approach to politicians' image management is the emergence of an artificial and illusionary social environment where voters' decisions are guided by the color of socks or holidays preferences.
That is likely to threaten the democratic values as personal, often trivial narratives, which have a greater weight on people's voting choice, replace the more substantive political programs and policies.
Kamilla Ibragimova is a Master candidate in Public Administration at Central European University. Her specialization focus is on public relations, media and video advocacy. Prior to attending CEU, she studied international relations in the United States and European Studies at the American University of Central Asia.
Read more stories at our CMDS Medium blog.